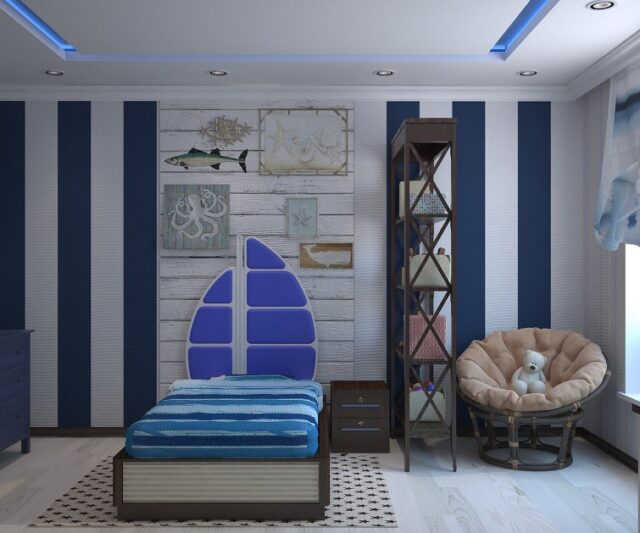 Ceilings in any house are usually the most neglected part. While you are decking up a room for your kids, this should be the first place that you should focus on instead of the furniture and lightings. Bare ceilings are no longer a part of the trend. Kids tend to stare before they fall asleep and giving them a perfect sight would be the perfect gift for them from you. Here we will be sharing a few creative ways to redo the ceiling of your little munchkin that would brighten up the space.
1. The galaxy theme – This might not be a new concept, but is still something that would leave your child amazed by the beautiful stars and planets that make the galaxy. You could hire a painter to paint the ceiling with special glow-in-the-dark paint or there are also galaxy stickers which are easily available in the market and are also easy to install. They instantly transform the room in to a starry galaxy in the night.
2. Floral theme – Flowers are always pleasant and if you want to have some floral hint for your child's room, then you could go for 3D wallpapers or simple floral wallpapers. Wallpapers are not just affordable but also easy to install. There are loads of options that you can select from and can match them with your furniture and décor.
3. Nature's theme – Give your child's room a touch of nature by adding wooden or wildlife elements to it. You could add jungle themed wallpapers with tree-house-like furniture or a bunker bed. You can also add tree wall-papers at the corner for a 3D effect with waves, clouds and butterflies to bring in some nature.
4. Animal inspired – Children are often fascinated by animals and you can enhance the feel by implementing the wild jungle themed décor for their space. You could bring in animal wall stickers and huge dinosaurs that would look cool and fascinate your child.
Photo Credits: Pixabay