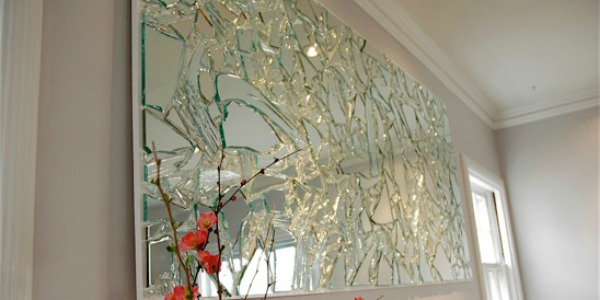 No home decor is complete without mirrors. They come in all sizes, depending on the extent of your vanity – mirrors can be added to the hallway for guests to peer at themselves before making an entrance into your home, in bathrooms, bedrooms, dressing rooms and any other place you fancy.
Buying mirrors from a store can be quite an expensive affair. The frames themselves are usually what adds to the cost of this piece of furniture. Here, we give you some DIY tips on constructing your own mirror, using everyday recycled material that won't weigh on your wallet but add glam to the overall décor of your home.
First, buying glass should be inexpensive. You can go to your local Home Depot or hardware store where they provide you with mirrors of all shapes and sizes. Some stores even cut the shape for you, dulling the edges to prevent any cuts. When it comes to mirrors, there are many types here as well – two way, non-reflective, foggy, clear, etc. You need to decide the purpose for using the mirror and accordingly make a decision. Ask your local store for assistance when it comes to selecting the type of mirror you are looking for.
Now comes the fun part – let your imagination run free to design the frame of the glass. The most popular option is a sun-ray sort of frame that you can create using sticks, spoons, etc. Check out this amazing blog by apartmenttherapy.com for some cool ideas on mirror frames.
A very important tip to remember is the positioning of the mirror. Remember that they reflect other images in the room, so you want it to be placed in such a way that it catches sunlight at the right angles and makes the room look bigger. You may have gone to ballrooms and restaurants where their mirrors gave a larger appearance to the setting than it actually was. Mirrors aren't just for vanity – they are also meant to improve the look of the room and enhance its ambience.