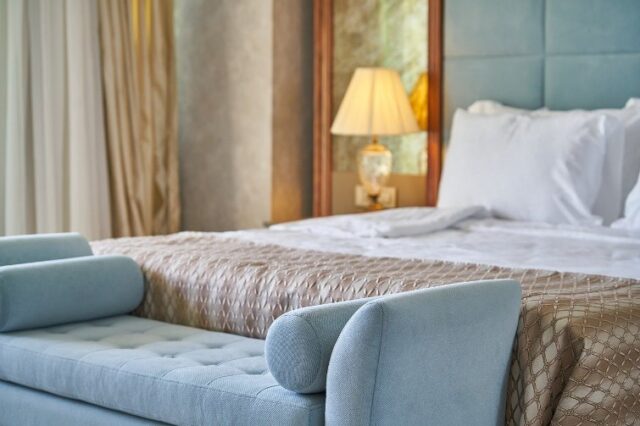 People living in the country side might have big homes with spacious rooms. But a number of people living in the urban areas have homes that have limited or small spaces. Bedroom is a space that helps you to relax and unwind and if the space is cramped, then it becomes tough to unwind. A number of people also accumulate many things that cramp up in the little space leaving very little room the movement. Here we will be sharing a few ideas that will help to make your cramped bedroom look more spacious.
1. Sliding doors for closets and cabinets – Pull and push doors for closets and wardrobes in the bedroom can need extra space. Sliding doors need much less space than the regular ones. They make a lot of sense as they help to save a lot of space and make your room look spacious.
2. Be smart with storage space – While thinking about storage space, you need to think ahead of your time. If you think you would need a lot of storage space, then you need to decide early. Be smart while creating storage space and have cabinets up to the ceiling so you will not have to bother about storage for the next few years.
3. Compact work/study space – A cramped space brings a number of issues. If you don't have any space for your work space inside your bedroom, you can opt for a folding desk that can be mounted on the wall. It takes minimal space and is also easy and affordable to install.
4. Minimal furniture – When you don't have enough space in your bedroom, make sure that you be a minimalist. Make sure that you don't add any extra or unnecessary object in the room. Less stuff will mean less clutter and will also leave extra space in the room to move around and make it look spacious.
Photo Credits: Pixabay