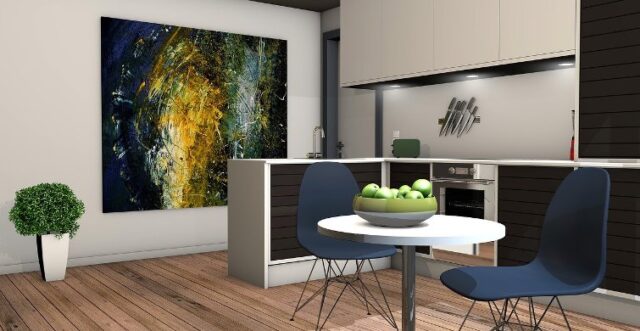 People who spend a lot of time in the kitchen often wish to have a clean and organized kitchen counters. An organized countertop plays the key to the hearts of the people who are cooking. A number of people often struggle to have a clean and mess free countertops and end up being irritable. But the good news is that there are a few easy ways to make sure that the counter tops remains tidy, clean and mess free.
1. Avoid the appliances on the counter – The appliances are bulky and occupy a lot of space, if they are kept on the counter, there is hardly any space for other things. It is best to be smart and take care of the appliances by keeping them in some other place which is discreet. You can also make a dedicated space for your appliances under the counter.
2. Hang the utensils – This is one of the easiest way to keep the counter clean. Hanging the utensils like the pots and pats on the wall of the kitchen makes it sorted and mess free.
3. Keep only essentials on the counter – Make sure that the counter has only the essentials like salt box, spice box, knives, chopping board and essential utensils. In this way you are making more pace for you to work.
4. Place a multi-purpose bowl – There are a number of moments, when the kitchen counter is filled with a number of random things. You can keep a multipurpose bowl in the kitchen which will be responsible for the things like keys, paper, bills and other things that do not belong to the kitchen.
5. Divide the space – Most of the kitchen counters are L shaped and you can optimize the space by keeping it organized. You can mentally divide the counter in to two sections and have designated space for the things like spices, fruit bowls and utensils.
Photo Credits: Pixabay